Indoor Dog Pools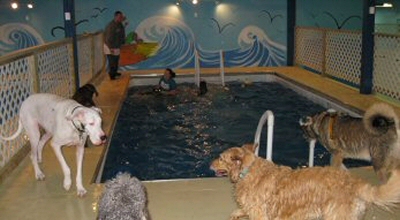 What dog doesn't like to splash and frolic in the water? Now, at Morgan's Paws Pet Care Center, your doggie can enjoy that fun no matter what the weather outside. Check out the private sessions and open sessions and decide which is best for your dog. (See indoor pool pricing.)
NOTE: Children (under the age of 13 years) are not allowed on any of the pool decks.
Private Dog Pool Sessions
Private pool sessions are by appointment only and are one hour in length. These sessions are booked during the following times:
Monday - Friday
8:00 am to 9:30 am and 12:30 pm to 4:00 pm
Saturday
8:00 am to 11:30 am
Sunday
Pools are closed all day for maintenance and shocking.
---
Open-to-All Dog Pool Sessions
These sessions are open for any and all dogs (must be spayed or neutered, show proof of vaccinations and must be able to get along well with others).
These sessions do not require appointments and the hours are as follows:
Monday - Friday
5:00 pm to 6:00 pm
Saturday & Sunday
12:00 pm to 4:00 pm
---
Dog Pool Time During Daycare
Daycare dogs will be in the pool every day, 10:30 am to 11:30 am
---
Dog Pool Time While Boarding
Boarding dogs will have a private session for 30 minutes.
---
Private Pool Parties Available
If you are interested in booking a private pool party, just e-mail Leticia Giese for details.